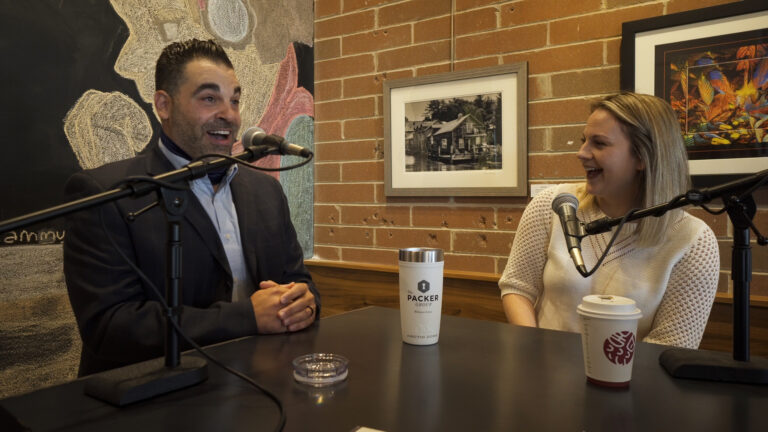 We began the coffee convos series with the ultimate goal of featuring locally owned coffee shops to encourage our sphere to explore their communities and support local. Having our entire team featured in each video was also a top priority for us because we want our online presence to reflect our team and everyone on it well. We want our clients and future clients to feel like they can really get to know their agents and staff here at The Packer Group in a relaxed and laid back setting. Sitting down with a great cup of coffee and having quality conversations regarding Real Estate, as well as the individual stories and passions that each team member brings seemed like the perfect way to help people get to know us on a more personal level and feel comfortable coming to us with their questions too.
Since setting our goals we have now completed 5 coffee convos, featuring 10 different people and 5 awesome locally owned coffee shops! We are looking forward for this series to continue to grow and for our online audience to feel like they know the people that make this team so special and the unique stories, expertise and personalities that they bring to the team. Check them out below! 
Coffee Convo #1
This episode features The Packer Group's director of sales, Jerry Yatooma and a former client of his, Brittany Ramaut. This episode was especially fun to do since it was our very first one AND Jerry got to sit in with a client of his who he helped sell & buy a home during the pandemic. A very impressive story if we do say so ourselves.
Coffee Convo #2
Design, Decor & MORE! this episode featured our home stager, Gail Silver and our Agent Jaime Jones. These two ladies were such a blast to sit down and talk with. Oh…and we can't forget to mention that milton made an appearance too! This episode featured coffee from Crafted Beanery Coffee Cafe in Belleville, MI.
Coffee Convo #3
Our BRAND NEW agent, Lisa Enge Bird joined our team leader Jeff Packer for this third coffee convo regarding downsizing and some of the most rewarding parts of being a real estate agent. This episode featured coffee from Coffee + Cream in Livonia, MI.
Coffee Convo #4
Our favorite husband and wife duo! 
Director of Operations, Kris Hohl & Real Estate Agent, Steve Hohl sit down and answer some of our toughest questions yet!
This episode features Espresso Elevado in Plymouth, MI.
Coffee Convo #5
Realtors, Ben Cockrum & Melissa Chan sit down to discuss health, fitness and Real Estate. These two agents are constantly keeping our team motivated and driven. Their individual passions in CrossFit reflect their natural propensity to be passionate for their clients and to work hard to get their offers accepted and into the home of their dreams. 
This coffee convo features coffee from Plymouth Coffee Bean in downtown Plymouth, MI. If you are in the area make sure to stop by and have a seat on their scenic outdoor patio.